Resources
Overview
A one page overview of GP with a handy User Interface Guide on the reverse.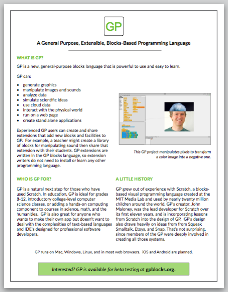 Project Starters
A project starter is a two-page guide that helps you get started on an interesting project. Where you go from there is up to you! Some project starters have short videos, too.
In Progress:
Have a question about GP? Try the Forum!
The forum can be read by by anyone. To post to it, you'll need an account. Click the "Register" button on the forum page to create one.
Additional Resources
Simple Si's Scratch to GP Guide
http://simplesi.net/scratch-to-gp/
Mark Guzdial's Media Computation in GP
http://home.cc.gatech.edu/gpblocks
YouTube Channel